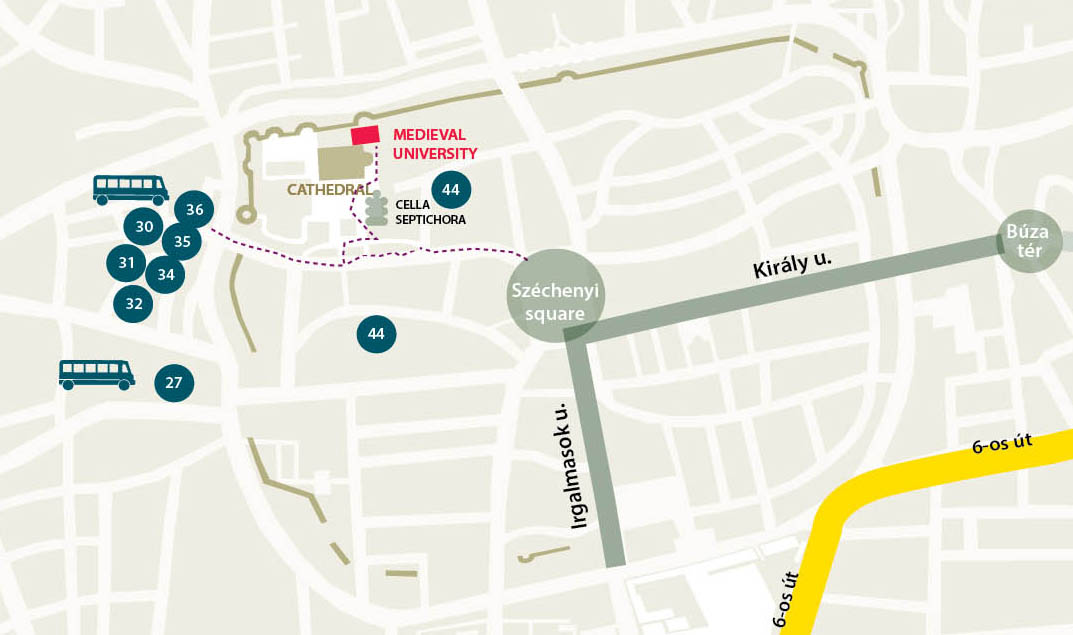 HOW TO GET HERE ON FOOT

Due to its unique location, there is now direct access for cars to the Medieval University, however, it lies within easy walking distance from the nearby car parks


BY LOCAL PUBLIC TRANSPORT

From the train station take any of the buses number 34, 35 and 36 get off at the Barbican stop (Barbakán) and take a 2-minute walk along Esze Street to St. Stephen's Square, or get on bus 44 at the Great Market Hall, and get off at either St. Stephen Square or at Káptalan Street stops. For further information concerning local public transport, please, check the public transport map of the city of Pécs.
BY CAR

The nearest paying car parks are next to the Barbican Square (Barbakán tér) or in the nearby streets. One can drive in St. Stephen's Square and Apáca Street only with prepaid permission.
BY COACH

For groups: A temporary bus park is developed at Barbican Square (Barbakán tér) for up to 10-minute parking for buses; i.e. for the time of stopping at and getting-off and on.